Learning Central
At the New Jersey Hall of Fame, we believe that children are the future; that's why we're providing resources and opportunities that allow students and educators in New Jersey to strive for their fullest potential.
Areté Scholarship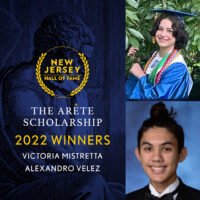 Annual Scholarship Opportunity for NJ High School Seniors
The Areté Scholarship awards two (2) $5,000 Scholarships annually to one (1) female and (1) male high school senior in NJ for use towards their college or trade school education. Rooted in the ancient concept of Areté, Scholarship winners exemplify moral excellence of character and a determination to achieve their goals regardless of the challenges they meet on their path to greatness.
The New Jersey Hall of Fame (NJHOF) awards The Areté Scholarship in partnership with the New Jersey Education Association (NJEA) and the NJHOF's Lead Sponsor.
Essay Contest
Annual Writing Contest for NJ Students Grades 4-12
Who belongs in the New Jersey Hall of Fame? This annual writing contest invites NJ students in grades 4-12 to shape the future of the NJHOF by recommending potential inductees—living or dead. Nominations can include famous people or even ordinary citizens who do extraordinary things. Students should research or interview (if possible) the person they wish to nominate and write an essay no longer than 500 words. Two categories for submission exist: Grades 4-8 and Grades 9-12.
The NJHOF presents the annual Essay Contest in partnership with the NJEA.
Educator Resources
Links and Resources to Support New Jersey Educators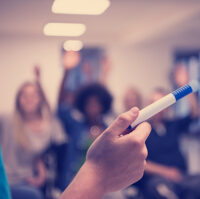 Educators are unwavering support systems for students in New Jersey. We're here for you! Here is our (ever-growing) list of vetted resources that will help you be the best you can be – for yourself & your pupils!
The New Jersey Hall of Fame Mobile Museum 

The Mobile Museum, designed by Michael Graves, NJHOF inductee and celebrated architect, and Ralph Appelbaum Associates, is a 53-foot double-expandable trailer that transforms on location to 850 sq. ft. of stunning exhibition space. Among the first of its kind in the country, The Mobile Museum serves as a research center of primary sources and inspiration so that all New Jerseyans, especially students, can take pride in the history of New Jersey and local communities. Currently, The Mobile Museum is taking a break to undergo maintenance and updates to align with exciting developments being made at the NJHOF Entertainment & Learning Center at American Dream.
Be the first to hear about our next road trip by signing up for our newsletter.
Coming Soon: The New Jersey Hall of Fame Curriculum Guide
The all-new New Jersey Hall of Fame Curriculum Guide provides novel opportunities for educators to maximize their students' learning experience before, during, and after a visit to the NJHOF Entertainment & Learning Center. We understand that a teacher's time is limited, so we've created a Guide that provides enough background and layout information so that teachers will feel confident navigating the exhibits with their class.
Benefits for Students & Teachers
Provides a structure to instill the importance of goal setting, planning for the future, and strategies to cope with struggles to the path of achievement.
Offers resources for character education programs and guidance programming.
Allows teachers and students to promote an expansion of thinking beyond the traditional sense into transitional life strategies.